I want to go over my top five Walmart crappie fishing baits so let's go ahead and get started with numbe one .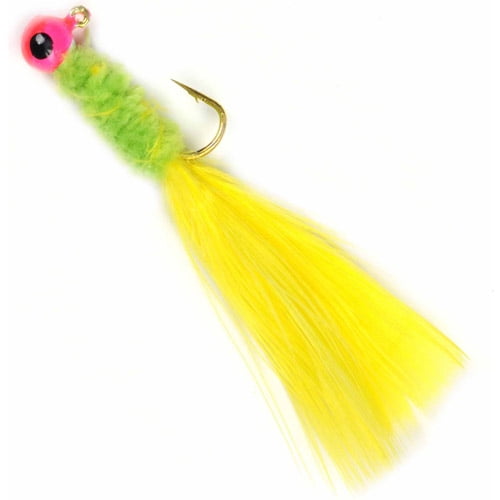 1.  Walmart marabou jig
The first one is  marabou jig so normally i'll go with a 1/32 ounce to a 1/16 balance this is a 1/32 ounce but they're pretty cheap it's two bucks for about ten of them great deal and again crop you're gonna be going after minnows and those just mimic a minnow which is why they work so well .
2. Walmart Lure   : Inline Spinner (blue fox or South Bend

Second favorite crappie bait is an inline spin and the reason they're one of my favourite crappie baits is because not only do I catch crappie on these things but I catch a lot of bass and bluegill trout and sometimes even catfish on them and so Walmart carries two brands that I really like Blue Fox and South Bend Blue Fox is a little cheaper it's about six bucks for five of these or it's about ten bucks for six of them with South Bend they both work equally well equally well and I get a size 2 or a size 1 for the crappie.
3. Walmart Lure : " Plastic Bodied Jig"
Third favorite base for crappie that you can pick up at Walmart kind of goes back to the jigs but these are plastic jigs instead of the marabou jigs .
I would do is when you're at Walmart's go ahead pick up at least some jigs that are about a 1/32 ounce get some that are 1/16 ounce and then one that are 1/2 ounce the bigger jig heads the heavier ones are gonna be fishing deeper so if the crop you're deeper .
You'll be using one these bigger jig heads to crop you're pretty shallow you'll get be getting more hits on these smaller jig heads but basically the nice thing about these is you can Mitch match a lot of different baits . I personally like the twister tails ,these jig heads they both work really well in different waters so you're gonna catch different numbers of fish but just get a couple different types of plastics in a different size jig heads color matters a little bit but not so much as the weight and the body and style of that bait.
4. Walmart Lure  : Road Runner
Number four guys is going to be a roadrunner and all that's meant by Roadrunner is just got this little extra blade on here it's basically a jig with a blade it's a little more expensive and you can't mix it up as much still not too terribly expensive it's about 2 bucks for this can you come.
5. Walmart Lure 5 : 1-2 Crankbait
Finally my fifth favorite bait at Walmart would just be a small crank bait so here you got crappie magic crank bait it's about a 1 inch square build crank baits. I wouldn't go over 2 inches for a crank bait for crappie .
Bonus :
tip number two is to use some crappie nibble on your jigs at first was a little suspicious but recently when I was using that to jig rig I'd start using crappie nibbles and I seem to get more bites on the ones with the crappie nibbles either you can see the crappie nibble in the crappies mouth.
I only put a crappie nibble on the top jig and you just took the top cake and before that they're taking the bottom jig so maybe the clapping they're both new works also when fishing with friends I change out fish them a little bit and a lot of times we're using the same jig so it might be the crappie nibbles I've heard different things on these I think a lot of people say that the crappie nibbles don't make the fish bite more but they make the fish hold on a little longer .
I hope you learned something here today you'll try out one of these lures and as always good luck fishing .
This post may contain affiliate links which means I may receive a commission for purchases made through links.